Schedule, Busing, Lunch, and Recess
For the most current daily class schedule, click here
Daily Schedule:
Morning Schedule

Early Drop Off

7:45 am - 8:45 am $75 per week

Reg. Drop off begins

8:30 am - 9:00 am

Period 1

9:00 am - 10:25 am

Period 2 Including Lunch and Recess


10:30 am - 1:00 am

½ day pickup

1:00 pm






Afternoon Schedule

Period 3

1:00 pm - 2:25pm

Period 4

2:30 pm - 3:30 pm

Camper Pickup

3:30 pm - 3:50 pm


Late Pickup

4:00 pm - 5:00 pm $75 per week

Extended Late Pickup

5:00 pm - 5:30 pm $100 per week
Recess:
Discover Camp "Recess":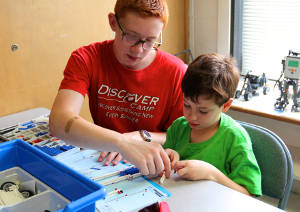 Another unique aspect of Discover Camp is the options that we give the children during "recess." The children have the options of participating in a traditional recess or a whole lot more. Options include: Chess matches with Silvio, Rubix Cube and other puzzles with "Master of the Cube" counselor Tim, RC car and truck racing, skateboarding with Jay and Milo, indoor basketball, "Piano Bar", Arts and Crafts, Kickball, Ultimate Frisbee, Wiffleball, Magic the Gathering, Yugio Cards, Guitar Hero, Wii games on our SMART Boards, Stomp Rocket competitions, MINI-Z racing and other fun activities. Of course not everything is offered everyday but there will be a variety of games to choose from.
Busing:
Discover Camp offers Door to Door and general pick up busing to the following general areas:
Scarsdale
Eastchester
White Plains
Northern Westchester
Please contact us for busing rates and stops.
Discover Camp Lunch

The full day and morning program includes a delicious individual lunch. Lunch is served during period two. Every Monday morning your child will choose their lunch for the next four days (Tuesday - Friday). We offer daily specials as well. Every Monday is PIZZA DAY which we order from a local pizzeria. We order plain, sausage, pepperoni, white, gluten free, sauceless, cheeseless pizzas as well as chicken fingers and garlic knots. Ice water is served each day. Fresh salad and fruit are offered daily. Our cafeteria is air conditioned. Contact do'neil@discovercamp.com for questions about food service. Kosher and Gluten free options are available. .

Sample lunch form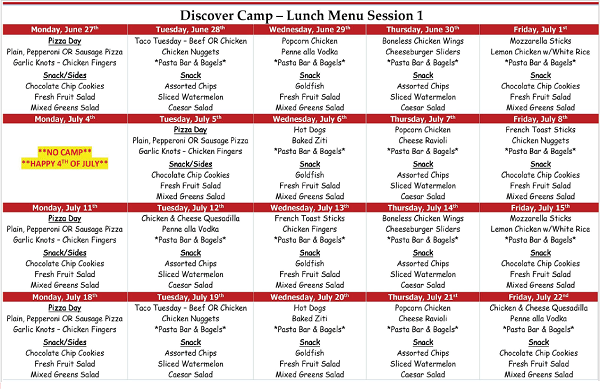 Last modified: Sunday, January 22, 2023, 5:50 PM